Recently, CherryTop Weddings contacted me to introduce their products and services. When I received their sample package, I absolutely loved the concept and design! I asked them if they would be happy to take part on the Q&A serie and they gladly accepted. All answers have been kindly provided by Alex Ridd, CherryTop Weddings general manager. Should you have any additional questions, do not hesitate to add them in the comment section and I will get the answer for you.
I would like to thank once again Alex and his team for their kindness and participation in this Q&A. I'm super excited to collaborate with them in the future on my client's wedding! 🙂
***
What is Cherry Top Weddings' story?
The CherryTop Weddings story is one that begins, fittingly, with a wedding. Perhaps even more fittingly, it was a family wedding. The wedding was that of my brother, and we decided to create something special for it. What we created was activity books for the guests, books that included photos, messages, quizzes and games.
The books were extremely well received, and I guess you could call this our Eureka moment, where we realised that actually all weddings could benefit from something like this, something that brings fun games and activities to a wedding, whilst also serving as a special memento of the day.
We are a small team of hardworking people with a genuine passion and enthusiasm for creating not just something new and exciting, but something that will well and truly put smiles on peoples faces!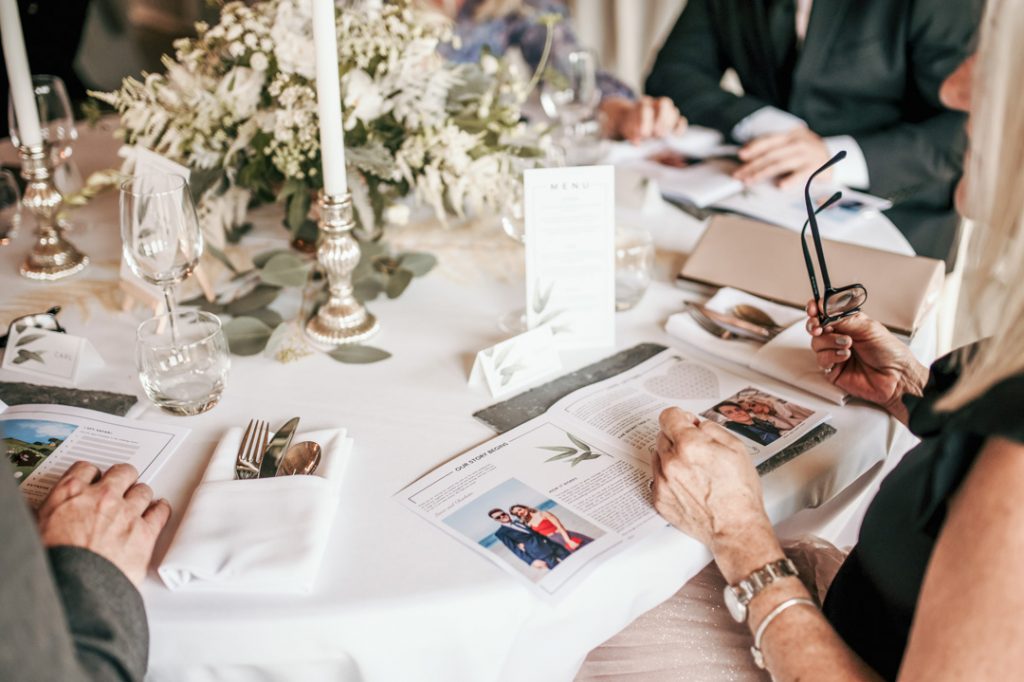 Tell us 5 things about your company
We have a sister company, Treasure Trails. Treasure Trails is a leisure company that provides family entertainment in the form of self-guided walks and adventures. We share offices with the Treasure Trails team and can often be found playing all sorts of games, activities and competitions between the companies!
We have over 40 designs available to choose from for our booklets, and every single one has been lovingly created by our super talented designer, Emma.
Our name, CherryTop Weddings was actually discounted as an option in the original shortlisting of the names, it was only when we shared the names with some family and friends and CherryTop was universally liked, that we decided to go with it. Suffice it to say, we are very glad we did! We really can put the cherry on top of your special day.
On the wall of our office is written a quote that we as a team absolutely swear by. The quote is "The difference between something good and something great is attention to detail."
Also on the walls of our office, are loads of sticky yellow stretchy smiley men. Honestly, there's loads! We use them in our children's activity packs but I think it's safe to say the staff get just as much enjoyment out of flinging them around!
How does the booklet work?
The booklets are personalised by the couple with photos, messages and tailored activities such as quizzes, drawing games, wedding speech bingo etc etc. The guests of the wedding each receive a booklet, providing a mixture of fun, ice-breaking, memento and favour, all in one. The booklets are accompanied by the couples very own wedding website that allows guests to share photos, messages and answers to some of the activities. This website also has live-stream capability, meaning absent friends and family can still share in the celebrations and follow along.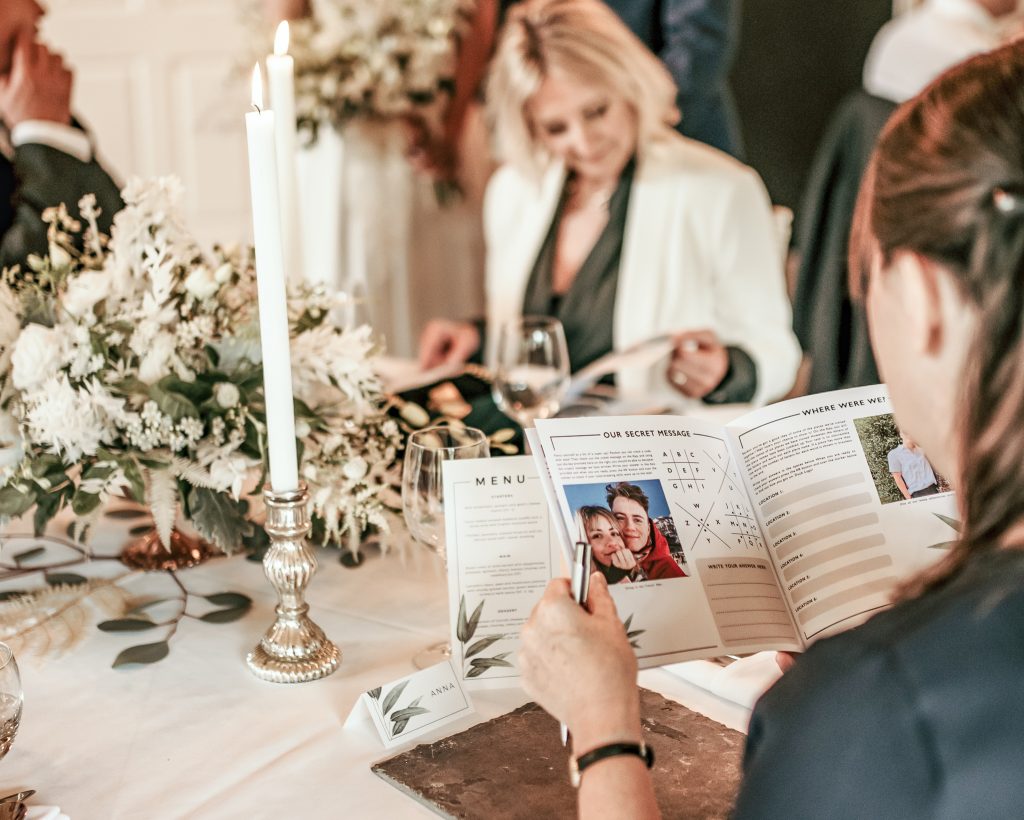 What if someone cannot attend the wedding? (COVID restrictions or else)
As I mentioned, the live stream capability means they can share in and follow along on the big day, viewing and contributing their own photos and messages as they go. We also offer Absent Friends booklets which mean they can take part in the same activities as the in-person guests, bringing them even closer to the wedding, from the comfort or safety of their homes.
What are your values?
Great question, as cliché as it sounds, our biggest value is customer happiness, and more specifically putting smiles on the faces of our customers! We love weddings, and being able to help couples and guests have an even more special day is something we are immensely proud of.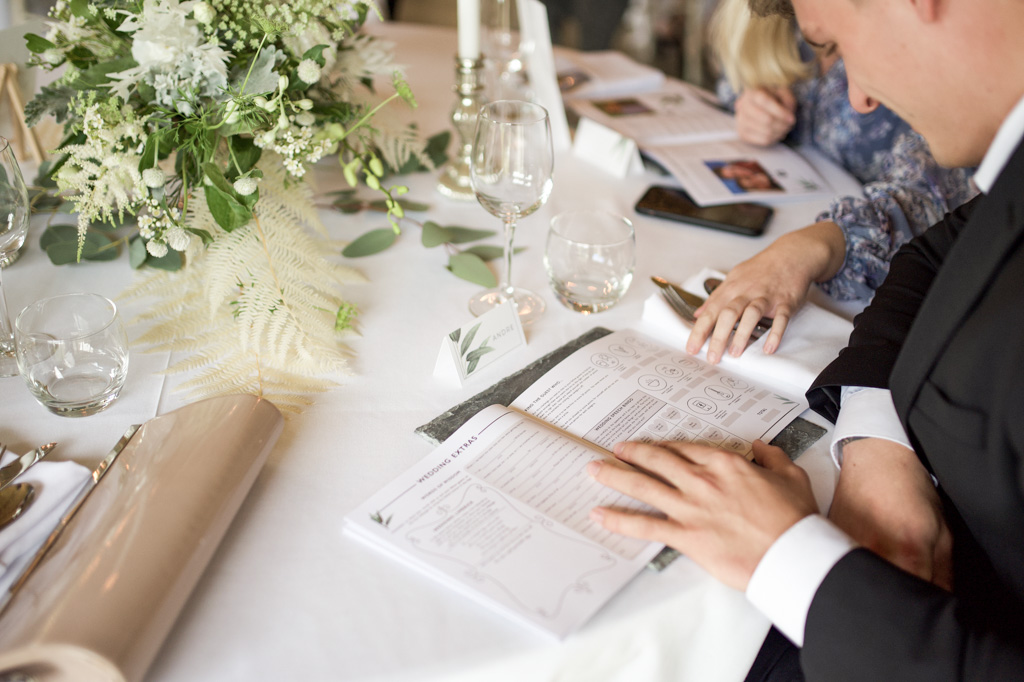 How do you work with your clients?
With all of the stresses, I's to dot, and T's to cross when planning their big day, it is important that we can make using our product as simple and enjoyable an experience as possible. As such, all a client needs to do is place an order on our website for the amount of booklets they require, and then they will be guided through to their super nice and easy to use Booklet Builder. Once they have built their perfect booklets, we post them out in a nice box, well in advance of the wedding day!
Anything you would like to add?
Nope I don't think so, the questions covered most of it really well I think. We look forward to working with your couples and sharing in the celebrations soon, I think it's safe to say they've been a long time coming!
Finally, I would just like to say a big thank you to you Savannah for your time and attention, your couples are very lucky to have a wedding planner such as you looking after them.
If you would like to follow along or find out more you can connect with us at: www.cherrytopweddings.com or @cherrytopweddings on both Facebook and Instagram.
***
Thank you very much for reading, if you have any questions do not hesitate to post them in the comments, I'll be more than happy to get the answers from Alex for you! 🙂